Description
Description
[902-0065-000] MX-64R
**Caution
– MX-64R supports RS-485 communication.
– Recommended voltage of MX-64 is different with that of former RX-64.
– Operating Voltage : 10~14.8V (Recommended Voltage: 12V)
DESCRIPTION:
DYNAMIXEL is a robot exclusive smart actuator with fully integrated DC Motor + Reduction Gearhead + Controller + Driver + Network in one DC servo module.
MX series is a new concept of DYNAMIXEL with advanced functions like precise control, PID control, 360 degree of position control and high speed communication.
ROBOTIS recommends you to purchase the new and improved type of DYNAMIXELs with the aluminum front case.
(MX-28AT, MX-28AR, MX-64AT, MX-64AR)
Some strong points of using aluminum type case are:
1) Precisely designed and specially processed Aluminum front case
2) Decreased noise and improved protection against heat
3) Front screw threads are already threaded for easy bolt assembly
4) Maintains same dimensions as th existing DYNAMIXEL M-series (option frames are compatible)
CHARACTERISTICS:
Advanced durability, degree of precision, and wider control zone were achieved thanks to newly applied CONTACTLESS ABSOLUTE ENCODER
360 degrees POSITION CONTROL without dead zone
4,096 PRECISE RESOLUTION by 0.088 degrees
SPEED CONTROL at ENDLESS TURN MODE
Reliability and accuracy were advanced in the position control through PID CONTROL
High baud rate up to 4.5Mbps
RS-485 LEVEL COMMUNICATION
Torque control via current sensing
**The assembly structure of the MX-64 and RX-64 are the same but there some modifications to the case.**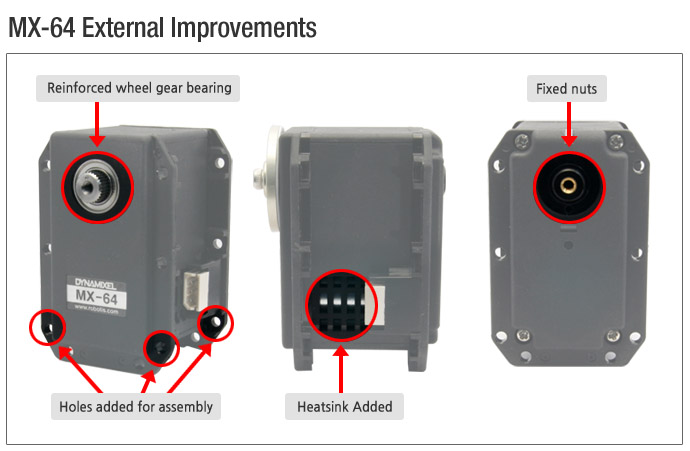 INCLUDES:
Description
Qty
DYNAMIXEL
MX-64R
1
HORN
HN05-N102 (MX Exclusive)
1
WASHER
Thrust Washer
1
CABLE
4P Cable 200mm
1
BOLT/NUT
Wrench Bolt M2.5*4
16pcs
Wrench Bolt M3*8
1pcs
Nut M2.5
18pcs
SPECIFICATIONS:
Product Name
MX-64R
Weight
126g
Dimension
40.2mm x 61.1mm x 41mm
Gear Ratio
200 : 1
Operation Voltage (V)
10
12
14.8
Stall Torque (N.m)
5.5
6
7.3
Stall Current (A)
3.9
4.1
5.2
No Load Speed (RPM)
58
63
78
Motor
Maxon Motor
Minimum Control Angle
About 0.088 degrees x 4,096
Operating Range
Actuator Mode : 360 degrees

Wheel Mode : Endless turn

Operating Voltage
10~14.8V (Recommended voltage : 12V)
Operating Temperature
-5C ~ 80C
Command Signal
Digital Packet
Protocol
Half duplex Asynchronous Serial Communication (8bit,1stop, No Parity)
Link (physical)
RS-485 Multi Drop Bus

(daisy chain type connector)

ID
254 ID (0~253)
Baud Rate
8000bps ~ 4.5Mbps
Feedback Functions
Position, Temperature, Load, Input Voltage, Current, etc.
Material
Case : Engineering Plastic

Gear : Full Metal

Position Sensor
Contactless Absolute Encoder by AMS
Default
ID #1 – 57600bps
Compatible Product
Click : Compatibility Chart
Drawings
Click : 2D and 3D
e-Manual
Click : http://support.robotis.com
** After purchase, please change ID and baud rate according to your use.
■ Hyperlinks
Frame, Horn, Bearing Compatible Chart : Click Here
Controller Compatibility Chart : Click Here
Download Drawing : Click Here
Dynamixel SDK : Click Here
Software RoboPlus (R+) : Click Here
Link to e-Manual : Click Here
Payment information
| | | | |
| --- | --- | --- | --- |
| Payment description | Original Price (HKD) | Total Price(HKD) | Services Fee(HKD) |
Direct bank transfer

HK$

2,980.00

HK$

2,980.00

HK$

0.00
Cheque payments

HK$

2,980.00

HK$

2,980.00

HK$

0.00
PayPal

HK$

2,980.00

HK$

3,107.51

HK$

127.51