Showing 1–12 of 14 results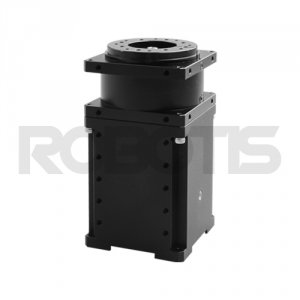 Requires 4 weeks of lead time upon order.
[902-0080-000] L54-50-S290-R
Characteristics
   - DYNAMIXEL Pro is an integrated actuator composedof a gear reduction system, controller,
driver, and network for constructing modular robots.
- A detachable cycloidal gear reduction box.
- Position, speed, and current control using an algorithm.
- Torque control using current sensor.
- PID control is used to sense position.
- Resolution:  Max 207,720 (steps/1 full rotation)
Components
Components
Quantity
DYNAMIXEL Pro
L54-50-S290-R
1
Cable
4P Cable 600MM
2
2P External Power Connector 600MM
1
Bolt
Wrench Bolt (WB M3*8)
20
Specifications
Model Number
L54-50-S290-R
Weight
0.662kg (23.1oz)
Size
54x54x108(mm)

2.13x.2.13x4.25(in)

Rated voltage
24 V
No load speed
26 RPM
No load current
1.05 A
Continuous operation
Speed
22.1 RPM
Torque
4.8 Nm (680 ozf.in)
Current
1.9 A
Resolution
207,720 Steps/turn
Gear ratio
289:1
Backlash
4.6 arcmin
Interface
RS-485
Operating temperature
5~55℃
Default Settings
- ID: 1
- Baud Rate: 1 (57600bps)
(Please make necessary modifications, suchas the ID, baud rate, etc…, after the purchase.)
Caution
- L54-50-S290-R supports RS-485 communication.
- L54-50-S290-R has a Straight type reduction gear system.
   - Caution: The operational voltage is different from other DYNAMIXEL series.
(Operational voltage: 24V)
■ Hyperlinks
Frame, Idler Compatible Chart : Click Here
Download Drawing : Click Here
DXL SDK 3.0 for Windows/Linux (Github): Click Here
OpenCM IDE : Click Here
Link to e-Manual : Click Here
Showing 1–12 of 14 results