Description
Description
XL430-W250-T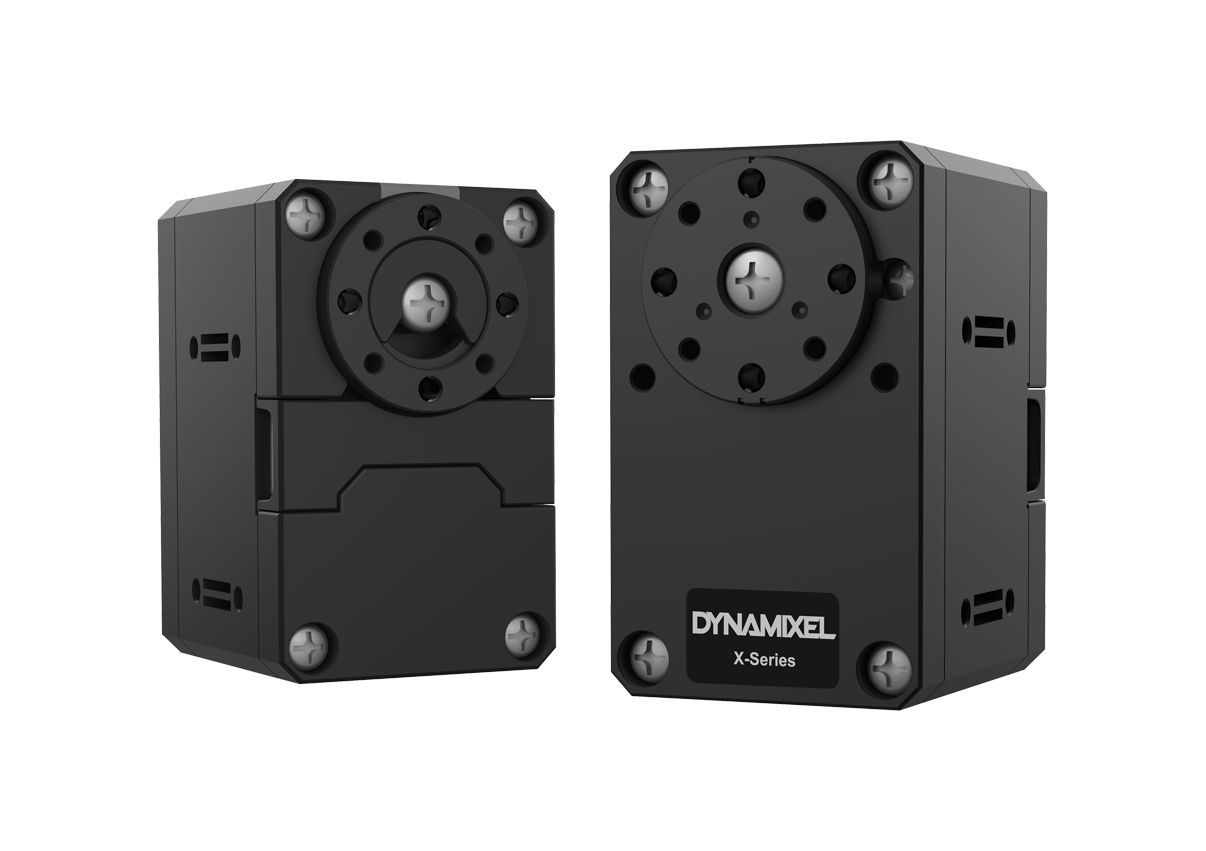 ■   Basic Features
The DYNAMIXEL X-Series is a new line-up of high performance networked actuators.
The Dynamixel XL series adopts new features that allow 360 degrees control mode with its contactless magnetic encoder and hollow back case assembly structure. The XL series has the same mechanical structure as the XM430 and XH430 and is compatible with the respective models.
Improved Torque, Compact Design
Enhanced Durability and Expandability
Hollow Back Case Minimizes Cable Stress (3-Way Wiring)
Frames Directly Screwed onto the Case (No Nuts Needed)
Energy Efficient with Improved Operation Time
■   Package Contents
Description
Quantity
DYNAMIXEL
XL430-W250-T
1
HORN
HN11-N101 (Pre-assembled)
1
CABLE
Robot Cable-X3P 180mm
1
BOLT/NUT
Bolt (M2.6*5) TAP
5
Bolt (M2*5)
5
ETC
Spacer Ring
5
■   H/W Specifications
Model Name
XL430-W250-T
Weight (g)
57.2
Dimension (mm)
28.5 x 46.5 x 34
Gear Ratio
258.5 : 1
Operation Voltage (V)
9.0
11.1
12.0
Stall Torque (N.m)
1.0
1.4
1.5
Stall Current (A)
1.0
1.3
1.4
No Load Speed (RPM)
47
57
61
MCU
ST CORTEX-M3 (STM32F103C8 @ 72MHZ,32BIT)
Position Sensor
Contactless absolute encoder (12BIT,360°) by AMS
Motor
Cored
Resolution
0.088° x 4,096 steps
Operating Range
Velocity Control Mode : Endless turn
Position Control Mode : 360[deg]
Extended Control Mode : ±256[rev]
PWM Control Mode : Endless turn
Input Voltage (V)
6.5~12.0V (Recommended voltage : 11.1V)
Operating Temperature
-5°C ~ 72°C
Command Signal
Digital Packet
Protocol Type
Half duplex Asynchronous Serial Communication (8bit,1stop, No Parity)
Link (physical)
TTL Level Multi Drop Bus
ID
253 ID (0~252)
Baud Rate
9600 bps ~ 4.5 Mbps
Feedback
Position, Velocity, Load, Realtime tick, Trajectory, Temperature, Input Voltage, etc.
Material
Case : Engineering Plastic

Gear : Engineering Plastic

Standby current (mA)
52
■    Default Settings
ID : 1
Baud Rate : 57600bps
*Please make necessary modifications to ID, baud rate, etc. after purchase.
■   Various Cabling Methods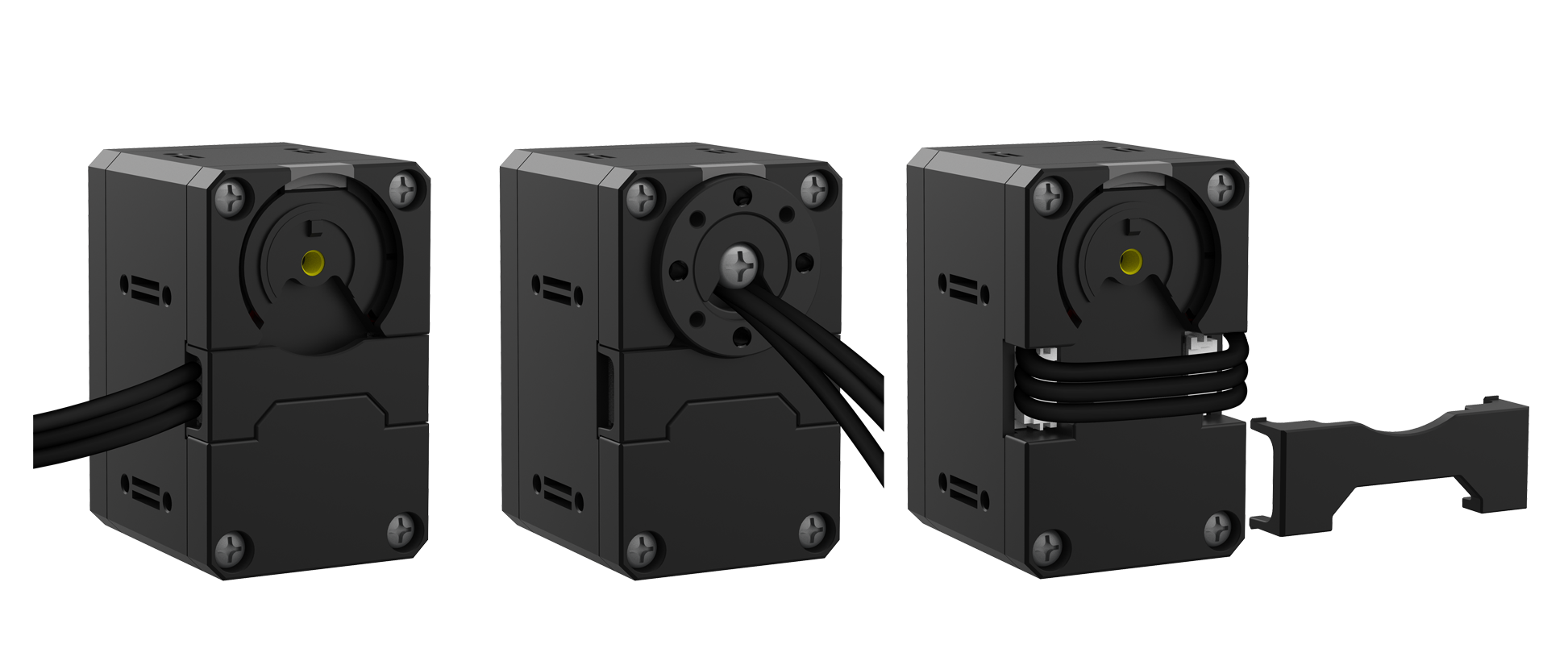 Caution – Cable Assembly through Hollow Case 
Assemble the cable so that it does not tangle.
Do not assemble the back case with entangled cable. The entangled cable can be squashed by the case and cause communication error.
Do not assemble both cables through the hollow case. Be sure to use one hollow.
■   Model Numbering

■ Hyperlinks
Frame, Horn, Bearing Compatible Chart : Click Here
Controller Compatibility Chart : Click Here
Download Drawing : Click Here
Dynamixel SDK : Click Here
OpenCM IDE : Click Here
Software RoboPlus (R+) : Click Here
Link to e-Manual : Click Here
■   Caution
The DYNAMIXEL X-Series adopted a new gold-plated JST connector for secure and reliable communication.
For more information, please see the [DYNAMIXEL Connector Standard] page on the e-Manual.
To control DYNAMIXEL X-Series actuators via OpenCM or USB2Dynamixel, please use the JST-Molex Convertible Cable enclosed in the package.
However, the Molex-JST convertible cable is NOT included in the XL430 model.
Please purchase a convertible cable when using a controller and interface that supports the JST connector.
Controller / Interface Board
Cable
Dynamixel X
Model
Supports Connectors :
Supports Connectors :
Communication
OpenCM+485 Expansion Board
Molex (3P, 4P)
Robot Cable-X3P 180mm (Convertible)
JST-3P
TTL
USB2Dynamixel
OpenCR1.0
JST (3P, 4P)
Robot Cable -X3P (by length)
U2D2
OpenCM+485 Expansion Board
Molex (3P, 4P)
Robot Cable -X3P 180mm (Convertible)
JST-4P
RS-485
USB2Dynamixel
OpenCR1.0
JST (3P, 4P)
Robot Cable -X3P (by length)
U2D2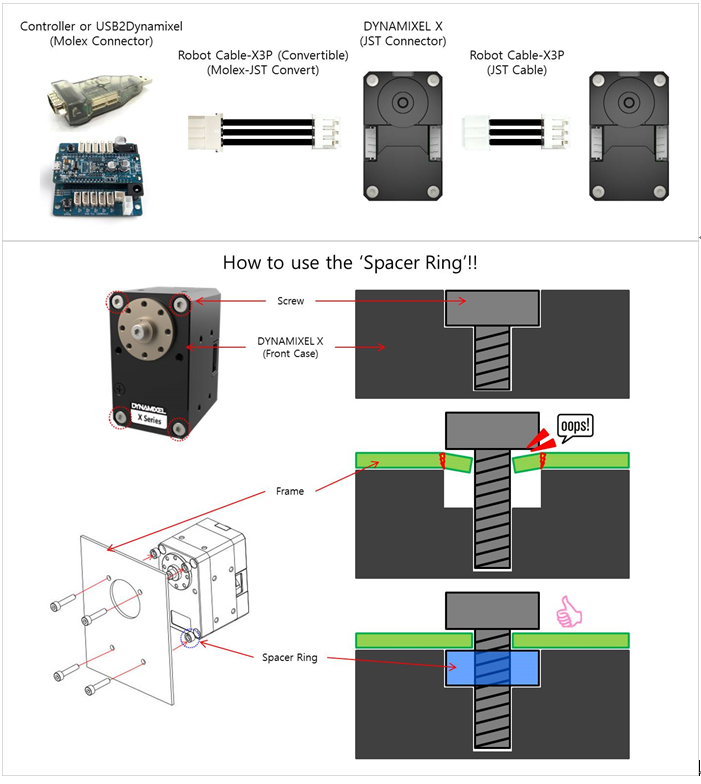 Payment information
| | | | |
| --- | --- | --- | --- |
| Payment description | Original Price (HKD) | Total Price(HKD) | Services Fee(HKD) |
Direct bank transfer

HK$

440.00

HK$

440.00

HK$

0.00
Cheque payments

HK$

440.00

HK$

440.00

HK$

0.00
PayPal

HK$

440.00

HK$

460.83

HK$

20.83